By Sue Gregori • • 11 Apr 2013
My 2012 dahlia garden
The slideshow is a series of paired pictures.  The first is photo with no retouch of a Dahlia and then some fun Photoshop tweaks of the same picture – hope you enjoy.  More actual dahlia pics below, just click on the photo to enlarge.
I was quite proud of my 2012 dahlia garden.  In addition to the normal plant care of water and fertilizers, I had to learn lots of lessons in pest control.  I guess I won the battle since I had a great number of wonderful flowers. 🙂
Deer – Which ate through all my buds in early June and then I declared war and started spraying with garlic powder and a few drops of soap. Â I also tried strips of dryer fabric sheets. Both of these worked okey, but they still nibbled every few weeks, but ate less. Â Then I learned the trick of adding a raw egg to a gallon of water and they would come and bit 1 or 2 buds, but spit them onto the ground.
Spider Mites – My biggest pest problems were spider mites, which almost destroyed my all my plants.  Mostly because I assumed spiders didn't eat plants.  And then it took some trial and error to learn the best method to treat them.  Luckily I learned about Neem Oil which I sprayed every couple of weeks to keep the mites to a minimum.  The Neem Oil also helped with the powdering mildew and I was able to get blooms on most plants into mid-November since it was still warm enough and didn't rain as much.
Snails – A normal beast to dahlias, but an easy one to treat with slug bait.
Cats – No, they don't eat the plants, but they are the only pest that actually kills my dahlias every year.  They come into my yard to use my loosened soil as a litter box, they damage new dahlia shoots and their urine burns the young plants.  This pest alone is costing me $100++ every year in lost dahlias and repellents.   Pet Repellents are very expensive since they need to be reapplied weekly.  Garlic powder in bulk sprinkled on the ground is still a tad expensive (I have about 60 dahlia, plus about other areas I would like to keep the cats out of)  Why are there so many irresponsible cat owners in my neighborhood, who feel it is okey to let their felines out to destroy and use other people's yards as a litter box?   That's a rhetorical question, but if anyone knows a does know good, low cost way to rid cats from the yard without harming them,  Please, Please drop me a note.
I like to tending my garden and I love to marvel at the variations of color and patterns that dahlias have to offer.  I like to go out every morning with my cup of coffee, just to see what buds are opening up.  I also like trying to capture their unique beauty on camera for my own records and enjoyment.
Penhill Dark Monarch Dahlia

(AAID) This was the queen of all my dahlias this year. Â 6+ ft tall, Huge 9-12 inch flowers, cascading & twisting petals and very strong stems and trunk. With the multiplies of basketball size flowers and coastal winds I get here, these needed to be staked and tied to the fence to hold the load and some stems did get bent under heavy winds, but they are so huge one flower fills a vase by itself.
Bodacious Dahlia

(AAID)Â Rich red and strong golden yellow tips, what a flaming hot mama! About 5.5 ft tall and blooms varied in size depending how many were on the bush 6-9″ bloom diameter.
Islander Dahlia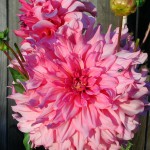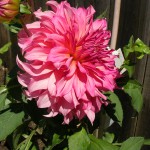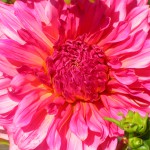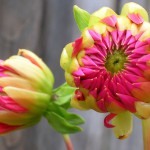 (AID) Great flower, the ruffles and layers look like a pink petticoat. I bought this dahlia as a plant in 2011 from Aztec Dahlia during a visit to their farm with Rose and Nattie.  No blooms the first year, but I collected the tubers and re-planted in 2012.  The flowers ranged in size, 6-10″, depending on how many buds the deer were willing to leave me.  Towards the later part of the season the flower faces all drooped facing 15 degrees down, still pretty, just not show quality. About 4′ tall.
Mango Madness Dahlia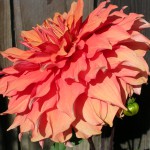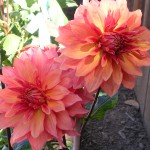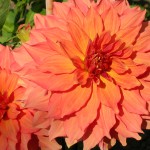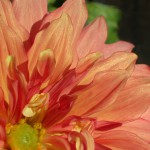 (AAID) Early bloomer, the new flower petals are coral red and as the flower opens they change to a rich cantaloupe color with a shimmer of what looks like very fine gold dust.  Really pretty amazing.   The plant was short, about 3′, but the large flowers 8-11″ and dark stems still make this one a winner.  I'm so glad I got it.
Westley Mingus 
Dahlia

(AID) Consistently a heavy bloomer with lots of tubers.  This year it grew about 6′ tall and had so many blooms, people who drove by stopped to ask if it was real.  The flowers are very full and about 8-10″ in diameter. It has a very sturdy trunk and stems.  It's more lavender than it photographs. Also, as a special note, this dahlia the spider mites didn't attack, resistant or dumb luck?  Lastly, it seems that this dahlia's petals are flatter in cool months or locations with more shade from hot summer afternoons.  The last photo is one from early in the season and mainly how it has looked in previous years locations in my yard.
Baarn Bounty Dahlia

(AFD)Â Late bloomer for me, but the deer ate it down pretty bad, that it almost died. Â Wide & flat, creamy peach with mauve starter petals. Â about 3.5 ft tall, with 8-10″ blooms
Spartacus Dahlia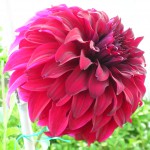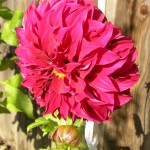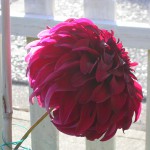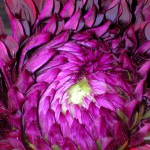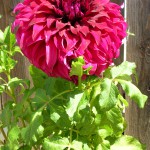 (AID) What can I say about this gorgeous, huge deep red dahlia.   I love the layers of cascading, pointed tips, deep deep red and globe shape that these form. The flowers are very consistent, no matter where in the yard I grow them.  This year both plants were stunted by the deer and spider mites, but normally they are 5-6′ tall, but the flowers were still 8-9″ in dia.
Vassio Meggos Dahlia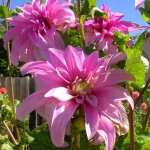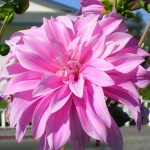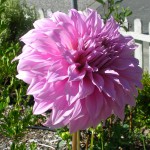 (AID)  The first 2 photos are from 2012.   The plant grew very tall this year(6-7′), but the were flowers were smallish (6-8″) and lacked the depth of layer from previous years (see last photo).  This plant was from the same tuber stock, so I'm not sure why it looked so much different.  It is suppose to be a sport of Spartacus (above) and normally has the same shape of flower, just in lavender.  Maybe I over fertilizer it?  Or the spider mites cause it to go into a stress mode?  Who knows, I just hope I get the better flowers this year.
Thomas A. Edison Dahlia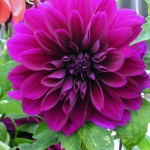 (BFD) The most 'blue' purple dahlia I have ever grown in my garden.   Good size flowers 7-8″ on 3′ high bush.  The flowers are very consistent in size, shape and color flower to flower.  Such a rich purple color and solid grower, it makes since that this one has been around since 1929
Mingus Toni Dahlia

(BBID) Variegated flowers with pink outsides and yellow insides, with red flecks and stripes.  One plant this year grew half its flowers without the red flecks.  Still quite lovely.  Flowers were 5-6″ in diameter and the plant grew to about 4′ tall
Aztec Bluebird Dahlia

(BBFD?)  A consistent bloomer. Unusual form (ball shaped and tubular petals) and pretty rare dahlia.  I got these from Eagle Dahlia Farm.  About 4′ tall and 4-5″ wide flowers.  The photos always show these as a pinky purple rather than blue, but they appeal 2 shades bluer in real life.  The tubers are plentiful, but with short stems and are knotted mess to dissect apart.
Neon Splendor Dahlia

(BFD) 3′ tall, 6-7″ blooms of warm orange with splashes of yellow or light orange in the center and outer petal fade/washout a bit to frame and give depth. Â The flowers were a tad heavy for the stems to sport and many drooped, but this may have been due to the heavy spider mite damage the plant took, which weaken and stunted the plant. Â This was the 1st year I grew this variety. Also the last 3 photos were in late October so maybe the plant was using it's resources to make tubers.
Raspberry Punch Dahlia

(BST) This is a cool looking flower, and produces a lot of small tubers, but this is the first year that I have got it to bloom. I just wish it would flower more. It had 6-8″ flowers and grew to about 4.5′ tall.
Wyn's Sensation Dahlia

(ASC) This is a majestic yellow dahlia. Â Lovely flower form and color on long sturdy stems. Â One of the first to bloom for me. Â The photos appear more yellow orange, than how they appear (a bold yellow). Â Plant is 5′ tall and flowers are 7-9″ in dia.
September Morn Dahlia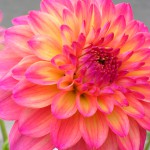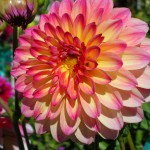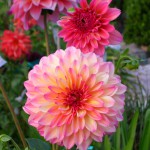 (BBFD) I have grown this several places in my yard, but this was this best location – full sun.  It really needs 8+ hours of sun for the red/deep pink edge to develop.  Everywhere else the flowers were boring pale yellow with just a splash of reds. This year each flower was its own individual slash of colors and always enjoyed going out and seeing how the colors morphed as the blooms opened up. Bush was 4′ tall and blooms were about 3.5-5.5″ dia.