Rooster Pot Holder pattern  – SKU# 2013-3
Buy on-line: Â Store Link
This potholder was for my mom.
Here's what I said on Knitting Daily(posted there before I had my own blog):
Here's my 3rd double knit pot holder. Â It's for my mom who was born year of the rooster and has a lot red rooster nick knacks in her kitchen. Â And I added the heart for Valentine's Day cheer.
The pic is just one pot holder. Â I photo copied both sides and photo pasted them together in picture.
My design ..sort of….it was modified from a cross stitch pattern I found and then had to be scaled down to fit the pot holder plus it had to be 'stretched' vertically since knit stitches are wider than the row height.
Not much else to say other than, I'm finally starting to feel comfortable with the double knitting now. Â I'm use to the 'stiffness' of the sugar and cream cotton yarn and the best needle size that works for me is 3.5 mm or US size 4. Â  I liked holding larger needles, so I had tried US 5 & 6, but I struggled to keep my stitches even and they got loose too easily.
I'm on my 4th pot holder now with a size 4 and it is no effort to keep my stitches even.
August 29th: Â  A Rooster visits in my backyard. Â How strange? Â (I leave in the suburbs.) Â He's a good looking little guy.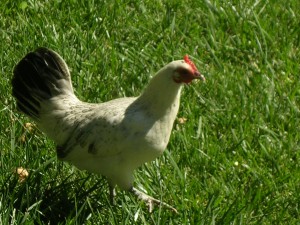 Tags: country, double, knit, knitting, Lily, pot holder, rooster, Sugar and Cream, Sugar'n Cream