Turtle pot holder pattern  – 2013-6
price $3.75 USD Â -Â Pattern Order Form
Buy on-line: Â Store Link
Here's the turtle pot holder I made for my ex's Mom.   We still are friends and she has a large turtle collection, so I made this pattern for her.   She was over at the house and we discussed color options, but after she left I was concerned that the pattern would not have enough contrast.  She chose a lovely coral & brown variegated yarn to go with the green yarn which I used.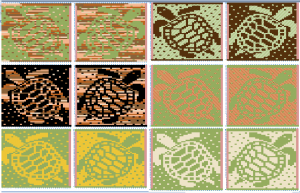 Here are some of the color combos that were evaluated.  The colors she requested and I tried are shown in the 1st row, left side yarn combo.  I tried to see the contrast-ability both in a yarn sample and on paper and both were strong indicators that the turtle design would show poorly, so I tried the black with the browns and I thought it would look great, but she didn't want black…so I kept playing on paper.
I ended up using Lily's Sugar'n Cream in 'Sage Green' and 'Sonoma Print' Â yarn which is a ecru color with short dashes of rust (that washed out to a coral), brown and green. Â Note: the dashes of rust color bleed onto my towel as I blocked it. Â (frown).
I added the dots to the background to help hold the front to the back. Â  And they ended up looking like sand or tiny tuffs of grass which adds to the nature look.
Tags: cotton, double, double knitting, hot pads, knit, knitting, Lily, pattern, pot holder, Sage Green, Sonoma Print, Sugar and Cream, Sugar'n Cream, tortoise, trivet, turtle