Tidal Wish pot holder pattern – SKU# 2013-9
Price $4.25 USD  – Pattern Order Form
Buy on-line:  Store Link
I completed this pot holder just in time for Mother's Day.  It has so many things that she loves.
My mom's dining room and living room is filled with blue & white Chinese porcelain  teapots, vases, jars and other shapes, so I wanted to make something she could use as a trivet on her dining room table.   She has long liked, ' The Great wave' Japanese Block print and has it as a backing to her 10 gallon aquarium, which inspired me to try and make a wave.  And she likes Escher illusions and suggested I try to make a potholder with illusion concepts. She also accents her room with flashes of orange items (pillows, flowers, etc), so that is why I colored the fish orange rather than carrying the lighter blue pattern all the way through (which I tried and it also looks nice).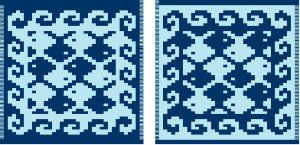 I drew this design in 2 colors and also 3 colors.  It was a bit more work to manage additional yarn balls, but I like the results.
Yarn used: Lily Cotton:
'Indigo' – Navy
'Faded Denim' – Multi Light Blues
'Tangerine' – Soft Orange
This pattern can be done in many other colors.   Here's a few alternatives which I've included in the pattern:

Tags: cotton, dishie, double, double knitting, Escher, faded denim, fish, graphic, hot pads, illusions, indigo, knit, knitting, Lily, ocean, pattern, pot holder, sea, sg-creations.org, Sugar and Cream, Sugar'n Cream, tangerine, tidal, tide, water, wave, wish, yarn