Fall Leaves Pot Holder Pattern SKU# 2013-15
Price $3.75 USD – Pattern Order Form
Buy on-line: Store Link
Well with fall coming, I think of all the colorful leaves I remember from leaving in the Seattle area.  I just loved how the hills would be covered with pops of color from deciduous trees changing to oranges and red and the back drop of the rich green pine trees.  It was the first yard big enough for me to be able to plant a Ginkgo tree and I loved it's bright fall color (bright green to yellow).   The other leaves are American Sycamore, White Ash and Northern Red Oak
So when, I was recently playing with my photo shop editor and decided for fun to make my boyfriend's cat into an Andy Warhol like pop art picture.  It was a total indulgence of computer playing fun, which turned into inspiring me to make this 4 quad leaf motif.
Looking at the 2 picture together, I don't see the Warhol in the leaf pot holder, but it could be done in crazier colors, and of course using a repeat of just one of the leaf shapes would be more Warhol like.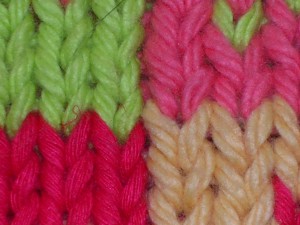 The pot holder still needs to be blocked and shaped, but I wanted to take photos before I washed it since the red is a new yarn for me and I'm not sure what to expect on the bleeding:  Martha Stewart – Lion Brand Yarn's  – 'Sour Cherry'.  The yarn was a bit more difficult to work since it a a tendency to split and it was a tad thinner than sugar and cream, but still compatible.   The finer fibers give off a richer glow.  It doesn't come in many colors and it costs more, but I would use it again.
Tags: American Sycamore, Andy Warhol, Ash, autumn, changing color, color, Cornsilk, cotton, deciduous, dk, double, double fabric, double knitting, fall, Ginkgo, Hot Green, hot pads, knitting, leaf, leaves, Lily, Lion Brand Yarn, Martha Stewart, Northern Red Oak, oak, pop art, pot holder, Red Oak, seasonal, sg-creations.org, Sour Cherry, Sugar and Cream, Sugar'n Cream, sycamore, tangerine, Warhol, White Ash